Cultivating a Future by turning Adversity to Possibility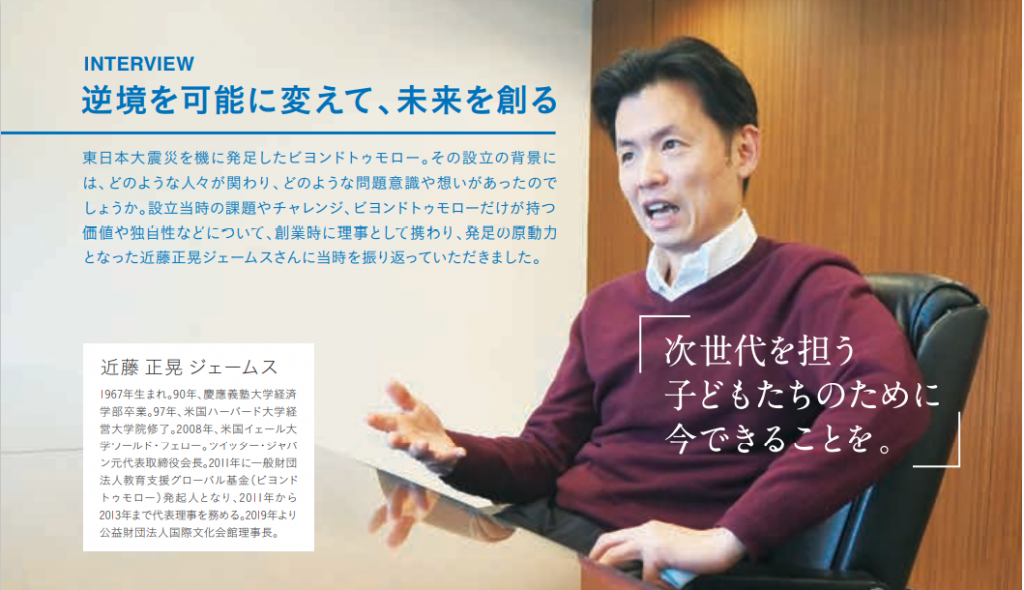 BEYOND Tomorrow was launched after the Great East Japan Earthquake. What kind of people were involved and what kind of perspective and intentions were behind the establishment? Mr. James Kondo, who during the establishment of BEYOND tomorrow worked as a director and contributed as its driving force, talks about the value and uniqueness of BEYOND Tomorrow by looking back on the issues and challenges at the time of its foundation.
Challenges Faced by Children become a Great Asset for their Future.
Once the basis of our organization was established, we had two main ideas about its business operations. One was to help children return as quickly as possible to their previous lifestyle, and as close as possible to their lost homes, even if neither are the exact same as before. The other was to recognize that through their tragic experience, these children probably have more-than-average levels of empathy and problem awareness, and rather than making a return to their previous lifestyle the objective, instead helping them in their new environment so that they can each play a key role in cultivating their future. We chose the latter.
Our belief was that children who have experienced such difficulties would have great potential to turn their experience into energy towards society in the future. For this reason we were keen to pursue that idea. Also, another common thought across many of those around me was that apart from their talent or their efforts, the various opportunities and circumstances of their past have enabled them to be who they are today. We thought that we could create an institution that would give children similar opportunities. And through doing so, the perspective of Japan as well as the rest of the world, most likely becomes an important factor.
So I called upon the internationally renowned Minami Tsubouchi and with hopes for her leadership, asked her to join the organization.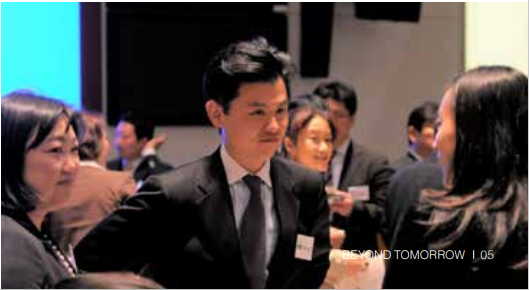 Among the activities of BEYOND Tomorrow so far, I think that the people development program, particularly its hands-on learning aspect, has shown the organization's uniqueness from its early days. It is extremely rare for students and pupils to come into contact with each other many times a year, making it possible to be conducted in a personal and "home-made" atmosphere. I think this is a major feature that continues to be passed down for ten years.
Looking back at the last ten years, I sometimes think that BEYOND Tomorrow may have been ahead of its time. Given what has happened in Japan over the last decade, problems such as disparity, inequality of opportunities, and child poverty are no longer uncommon. Rather they are fundamental issues of modern society. In other words, the number of children in difficult situations continues to grow, but how has society addressed those children? Although there are many debates on how to reduce disparities and supplement social equality such as with free meals or school scholarships, there are far fewer discussions on how to provide such children a different environment so that they can leap forward to being key value creators for society. With that in mind, we may be able to say that BEYOND Tomorrow is a rare organization, boldly engaged in activities for ten years with a great ambition that "adversity creates outstanding leaders". Not limited to Japan, but victims of all disparities, inequality and persecution around the world may have to come into scope of our activities. In fact, I hope so. You look around the world, and you find refugee camps with children faced with various kinds of challenges. They all probably have to be handled completely differently with an approach different to that of Japan. Based on what we have learned over the last ten years, I think that BEYOND Tomorrow can make great contributions to such challenges, and more and more I look forward to being able to do so.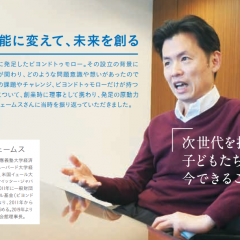 Kondo Masaakira James

Born in 1967, graduated from Keio University Faculty of Economics in 1990. Completed the Graduate School of Business at Harvard Business School in 1997. World Fellow, Yale University, USA in 2008. Former Chairman and Representative Director of Twitter Japan. In 2011, he became the founder of the Global Fund for Educational Support (BEYOND Tomorrow), and served as the representative director from 2011 to 2013. Chairman of the International House of Japan since 2019.