BEYOND Tomorrow Tohoku Future Leaders Summit 2012
2012.10.25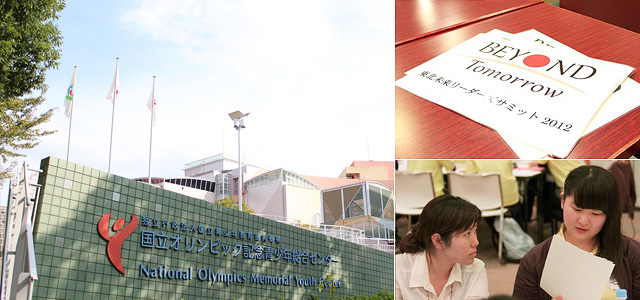 Movie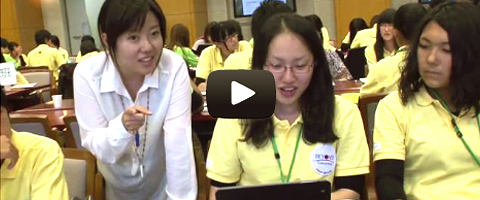 Report (PDF)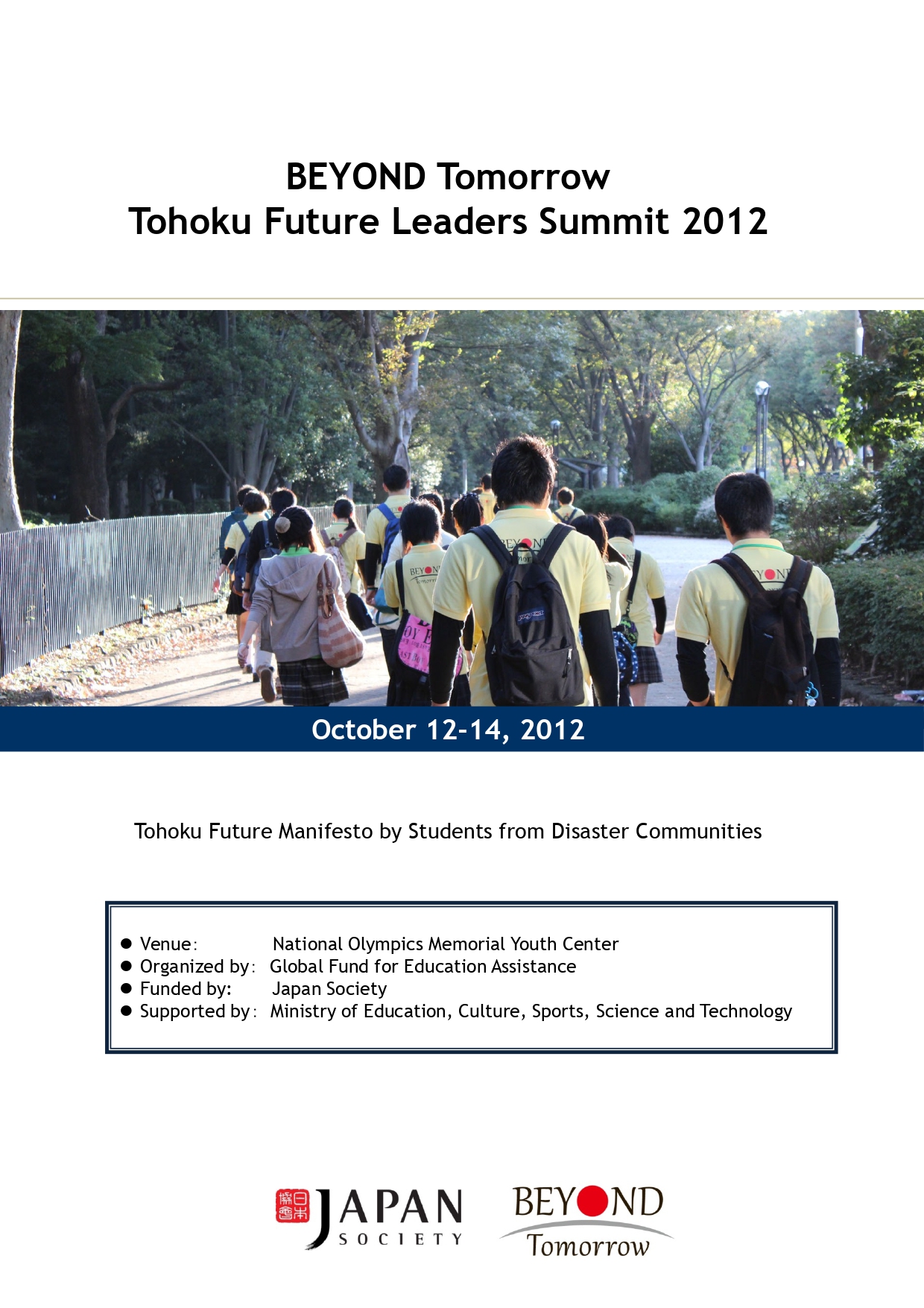 Summary
BEYOND Tomorrow hosted the Tohoku Future Leaders Summit 2012, the second time this leadership program has been held. This summit targets young people who, despite facing great adversity, maintain a global outlook and have aspirations to actively work on both domestic and international platforms. Together with 60 high school students who were selected on an application basis, 15 university students were also selected to attend, based on their active contribution to society and other BEYOND Tomorrow programs after having experienced the disaster first-hand in Iwate, Miyagi, or Fukushima prefectures. The students divided into groups, and as a group created proposals under the guidance of established leaders in various fields. We believe that precisely because they have experienced the tragedy of the earthquake and tsunami, these students are able to become empathetic activists and serve a larger society. At this summit the students, as survivors of the disaster, reflected on what roles in society they must fulfill and how to convert these ideas into action.
Goals
To create Proposals to the Future of Tohoku Based on personal experiences as well as the opinions of locals, students will discuss how Tohoku should work towards recovery, create a proposal, and present it
Each student to define a specific vision for him/ her future upon interacting with leaders active in different fields Upon speaking with various leaders, students will reflect on what role in society they would like to fulfill, in particular as someone who has first-hand experience of the earthquake and tsunami
To build strong bonds among the students through discussion of their shared ambitions and exchange of opinions The students will establish a sense of camaraderie among themselves as they jointly embark on a journey towards realizing their dreams
Dates and location
October 12-14, 2012 National Olympic Memorial Youth Center(Shibuya, Tokyo)
Participants
60 High school students from the disaster-affected regions, selected on an application basis
60 High school students from the disaster-affected regions, selected on an application basis – Must have been living in Iwate, Miyagi, or Fukushima prefectures during the time of the earthquake and tsunami – Must have a global perspective and exhibit strong aspirations of become a leader in both domestic and international platforms, overcoming the adversity of the disaster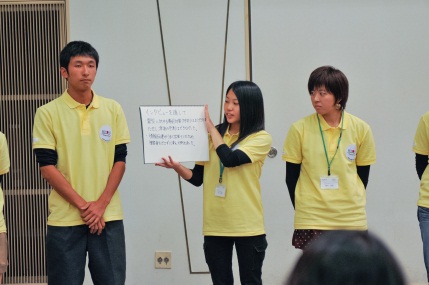 University students from the disaster-affected regions
15 University students from the disaster-affected regions – Must have been living in Iwate, Miyagi, or Fukushima prefectures during the time of the earthquake and tsunami – Must have participated in at least one previous BEYOND Tomorrow program – Must have displayed active contribution to society after the disaster, working towards a brighter future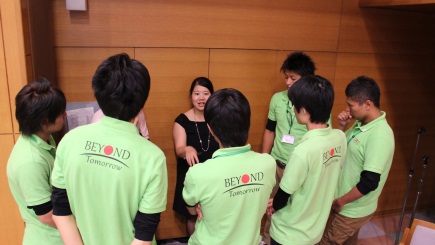 Advisors
An advisor was assigned to each student group, and the advisor offered support for the students in their discussions. Each student also received guidance when thinking about his or her future path in the context of Tohoku's recovery.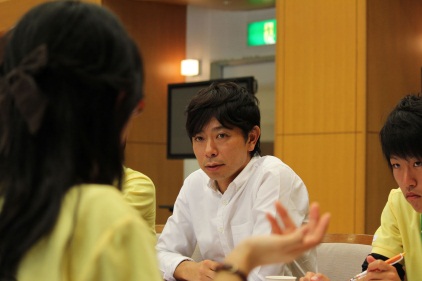 Yutaka Arai

Senior managing director, Great East Japan Earthquake Recovery Initiatives Foundation

Daisuke Iwase

Co-Founder and Representative Director Lifenet Insurance Company Japan

Etsuko May Okajima

President & CEO, ProNova Inc.

Koji Kagoshima

Planner/Copywriter, Social Innovation & Solutions Division, Dentsu Inc.

Takashi Tachibana

President, SHIEN,co.,Ltd.; Representative Director, Sweet Treat 311; Director,Eat, and Energize the East; Founder, OH! GUTS!; Executive Director, Cultural and Sports Support Organization for the Great East Japan Earthquake Orphans

Tomoko Teruya

CEO, NGO Yuimar

Seigo Hara

McKinsey & Company

Kumi Fujisawa

Vice President, SophiaBank; Vice President, Japan Social Entrepreneur Forum

Hanako Fujita

Faculty of Medicine, Gunma University

Chikara Funabashi

Will Seed Co.,Ltd. Founder & Chairman, Kawaijuku Educational Institution, Advisor

Mayo Hotta

CSE's Office, Recovery Initiatives Group, SOFTBANK CORP.

Nami Matsuko

Head of Corporate Citizenship Department, Managing Director Nomura Holdings, Attorney at Law (New York)

Hideki Matsunaga

Chief Representative, Egypt & Yemen JICA Ofice
Specialists
When discussing Tohoku's recovery, students received input from a specialist from each field. There were three fields represented: (1) entrepreneurship; (2) tourism and local revitalisation; (3) disaster prevention and city planning.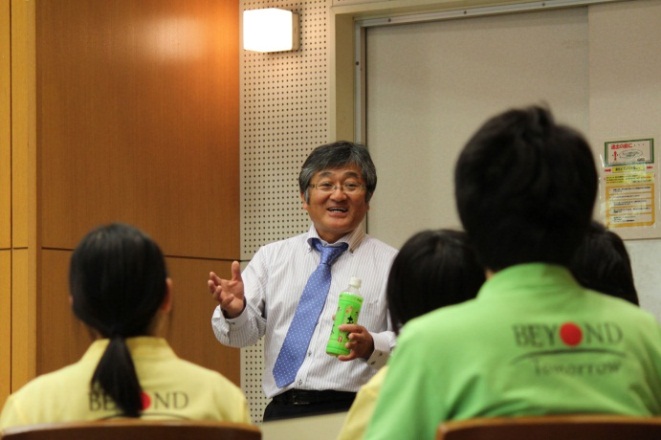 Guests
Students heard presentations from guest speakers who represented a diverse array of backgrounds. They spoke about their career paths and how to most effectively contribute to society. Engaging in dialogue with these guest speakers was an eye-opening experience for the students, and served as an important first step in their own path to becoming future leaders.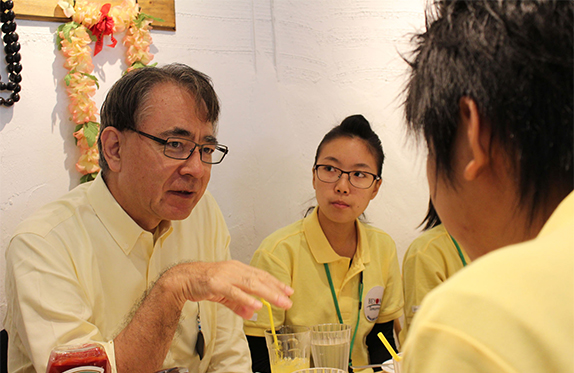 Program summary
Sharing disaster experiences
What happened on March 11, 2011? What was lost during the disaster, and what was gained? How did I change during the year after the earthquake? Students spoke on these topics in their own words and listened closely to their peers' stories. Building friendships after the disaster — through sharing their personal experiences, the students formed a strong bond with each other.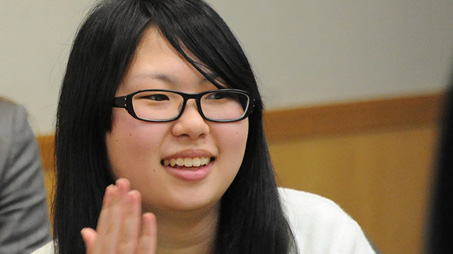 March 11, 2011. Amidst the persistent, biting cold weather, I lost everything.

Minoro Endo Ishinomaki Sensyu University, School of Business administration(Ishinomaki Kita High School graduate)
My name is Minori Endo, and I am from Ishinomaki city. March 11, 2011. Amidst the persistent, biting cold weather, I lost everything. My beloved hometown. My house that I grew up in. My father whom I adored. In just one moment the tsunami swept away everything. Before the tsunami, I called my father, and miraculously the call went through. My father told me that he was on his way home, and I heard the car engine start on the other side of the phone. This was to be my last conversation with him.
I had evacuated to high ground, and from there I watched as my house disintegrated under the ravaging tsunami. The black waters engulfed the entire town, and I could hear cries for help everywhere. But there was nothing I could do. At that moment I realized just how helpless I was. I was the only daughter, and as such, I was always daddy's little girl. For a long time I was unable to accept my father's death. Until we found my father's body, I was in denial and called his cell phone every day. I knew that no one would pick up, but every time I called I was terrified, making sure no one picked up, and when I did, I would just put down the phone and cry. While people were speaking about "recovery," I was stuck in time, unable to move forward. I wanted to be strong, but I didn't know what inside of me could give me any strength. I wanted to be strong, but I didn't know what I could do. The days passed. It was during this dark time that I came across BEYOND Tomorrow. At a time when I did not know what I could do, I was introduced to a place where I could start thinking about what I can do. Until then I felt all alone, but through BEYOND Tomorrow I met life-long friends. Together we have had such meaningful experiences, and through this, we have created a lasting bond. On the one-year anniversary of the earthquake disaster, I made a promise to myself: I want to become someone who supports others in achieving their dreams through empathy and compassion. In times of despair, what saved me was my connection with people. That's why I would like to connect with many people, be useful, challenge myself, and after one year, meet a better version of myself. This past summer I went to the United States and decided I would like to become a journalist. Through words I would like to connect people to each other. By realizing this new dream, I believe I am giving back to my beloved father. The past cannot change the present, but the present can change the future into something that shines brilliantly. This is something I have come to believe in strongly, after experiencing the earthquake disaster, forging new friendships, and taking action towards my dreams — and something that I would like to bring me with me into the future.
---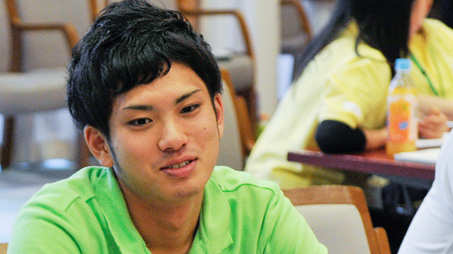 I am still here, that I am still living, is that I want to contribute something to my hometown and its recovery — for my mother and my grandmother's sake, for my family's sake. Masahide Chiba Utsunomiya University, Faculty of Engineering(Ofunato High School graduate)
It is strange to think back on the day before the earthquake disaster and tsunami. Even though it was only 4pm, the sky above the school courtyard turned a deep crimson, and a large flock of birds flew overhead. If only I knew at that point that something was different. I still think of that moment often.
March 11, 2011, 2:46:18pm. When the earthquake hit, I was playing club sports at school. The students were getting agitated because we had never felt the ground shake so much before. We were even smiling a bit — secretly, we were excited that something out of the ordinary was happening. Little did we know then how much grief was actually awaiting us.
That day I was not able to get in contact with my family who lived 50m from the ocean, but assuming that they safely evacuated to the back hills, I spent the night at the school without much worry. The next morning I walked home, through Sanriku Railway tunnel for about an hour. When I came out of the other side of the tunnel, I was met by a landscape with no buildings. But based on reports I heard that morning, I was prepared to see this level of destruction. What I was not prepared for, however, was the reality that lay within this destruction. My mother and my grandmother were dead. When I heard that they died, I did not know what to think. I went to the hill next to my house, and when I saw my mother's leg in our car, images of her face flooded my mind — memories of her from the day before, of my childhood — and thinking how much she must have struggled, I could not help but cry in agony. Even when I put my hands on her face, the warmth of my hands just dissipated; there was nothing I could do to ever bring back the warmth. The cremation was very painful. I was heartbroken because I knew that we needed to have the cremation, but every fiber within me did not want to have it. I could not bear to have my mother's body turn into ash in the flames. The days afterwards I struggled to find meaning in life. People would ask me if I was "alright;" I had no idea what being "alright" even meant — so I just smiled and said yes. Everyday I furiously cleaned away the rubble. I heard that my mother was swept away by the tsunami because she was trying to save my brothers' and my school materials by bringing it to the second floor. I couldn't sleep at night, blaming myself for my mother's death. If only something were different about that morning. The reason I am still here, that I am still living, is that I want to contribute something to my hometown and its recovery — for my mother and my grandmother's sake, for my family's sake. I now believe that joining the recovery efforts is my life mission; it's why I survived. My hometown of Ofunato thrived on its fishing business, and as such, I think that it is necessary to improve the traffic network of fish and manufactured goods. With a better network, Ofunato can become not just what it used to be, but even better — a town that is better prepared for disaster, a town that is easier to live in. Having this goal in mind, I want to study construction engineering at college. As a survivor, there are many things I feel that I must do. But it is just as important for others to continue to remember the Great East Japan Earthquake, and to not let it fade away in their memories. Currently it is expected that an even larger earthquake will hit Japan in the near future. This is why it is essential that we learn from this past earthquake and tsunami. By sharing our experiences widely, we may not be able to prevent an earthquake from occurring, but we will be able to ensure measures for quick evacuation, appropriate reactions to earthquakes, and minimized damage. If we are able to accomplish this, we will have truly learned our lessons from the past. With my mother's memory beating strongly in my heart, I want to create a world where no child has to ever experience the grief that I have.
Discussion topic
The discussion topic, to be worked on over two days, was presented to each team on the morning of the second day.
"Creating a manifesto for Tohoku's future" You are the executives of a political party for young people. You are currently campaigning to win the next election. As such, you must decide on a policy that will benefit Tohoku's future. You, the survivors, know the realities of the affected region — that is why you have the facts to accomplish this task. You, the young people, are the future of the Tohoku region and of Japan — that is why you have the vision to accomplish this task. In this way, you are to create a manifesto to be presented to current and future leaders, who will then vote in the election.
Themes
 Tohoku recovery through entrepreneurship
Disaster prevention and safety-based city planning that is of global caliber
Tohoku recovery through tourism
Rules
Create a name for your political party
Decide the members and positions for your cabinet if elected
Establish a catchphrase that encompasses the ethos of your party's manifesto
Understanding the needs of the affected region
As a first step of creating the manifesto, student participants researched the current needs of the affected region. Based on the needs, what is the most appropriate policy for this region? Students gathered information from their own experiences, as well as from opinions of locals.
Shared needs of the region
"The issue at hand is that people have not returned to the region. The financial aspect may be one of the most difficult obstacles: even if they come back, there is no work, and as such it is not possible to sustain a living. Also, as the public transportation has not fully recovered, it is difficult to modify work spaces and schools." "The recovery of commerce is what is needed. These days, there are many terms thrown around with the word 'recovery' in it, such as 'recovery of business areas.' It would be great to see progress in these areas without having to label the efforts as 'recovery.'"
"My house was damaged by the tsunami, and just like my house, there are many others that have yet to be repaired because the workers are too busy. In fact, they are finally starting construction on my cousin's house next month. Demand is far exceeding supply at this point, and even if one were to get his house repaired, people are asking for a lot more money for the job compared to before the disaster."
Interviews with specialists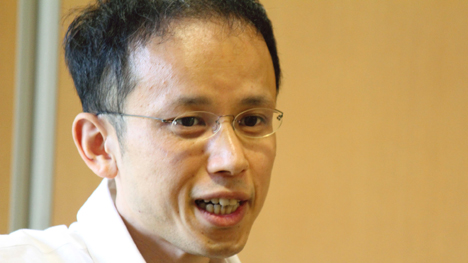 Entrepreneurship
Haruo Miyagi President, ETIC.
There are people who say that the government and its policymakers are moving too slowly. But even if things on the policy end were to move faster and money were distributed appropriately, if people don't have a reason to live, there is no point. People become revitalised when they have a reason to live. You, as high school students, have the potential to create a miracle.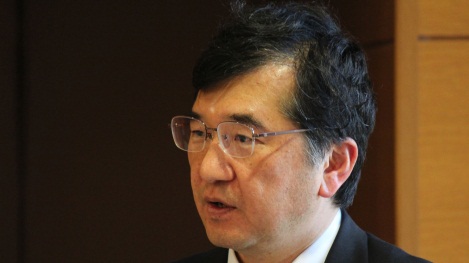 Disaster prevention and safe city planning
Satoru Nishikawa Director General of Audit, Japan Water Agency
What is necessary for safe city planning? There are many people who say 'You have to do this' or 'You have to do that.' The problem is in determining who the decision-maker is, how we are creating a vision for the future, and how we convince the locals of this new vision. What everyone is facing is this reality.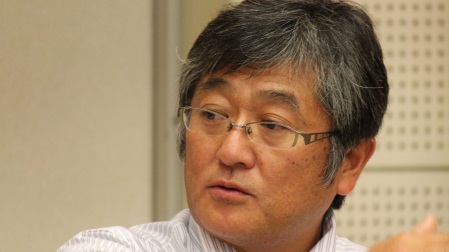 Tourism and revitalisation of the region
Kazuhiko Tada Representative, Tono Magokoro Net
In a place where everything was lost, we have no other option but to take this opportunity to create something new. There is no such thing as failures from things that we shouldn't have tried. But there are many failures from things that were good ideas.
Dialogue with leaders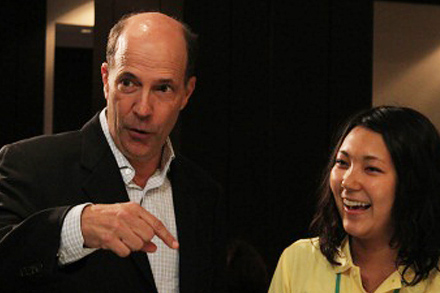 John V. Roos U.S. Amebassador to Japan
I want to reassure the Tohoku region that its future is in good hands because of young people like you. The future of Tohoku depends on you.
---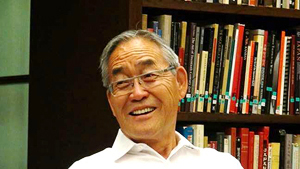 Motoatsu Sakurai President,Japan Society
One thing I would like to implore upon you is that you will all be making critical decisions at different crossroads in your career. At that point, be sure that you take a step back to get a good perspective and think about what significance your decision has in the world — and choose the direction that is more challenging and difficult. You may fail, but there will always be other chances. Keeping this in mind, please pursue a challenging, difficult career.
Final presentation of proposals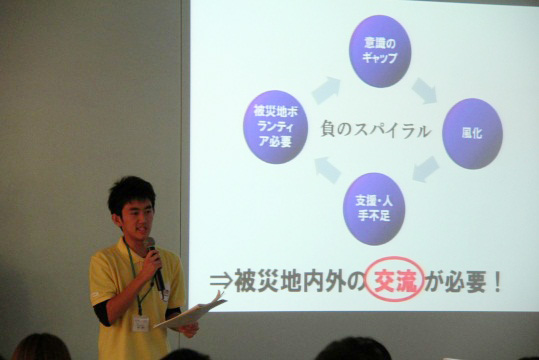 The 75 participants created their manifestos for Tohoku's future over the course of three days, during which they collaborated and challenged each other's opinions. The manifestos displayed an earnestness that could have only stemmed from students who truly understand the region's needs, and the presentations were filled with hope for the future.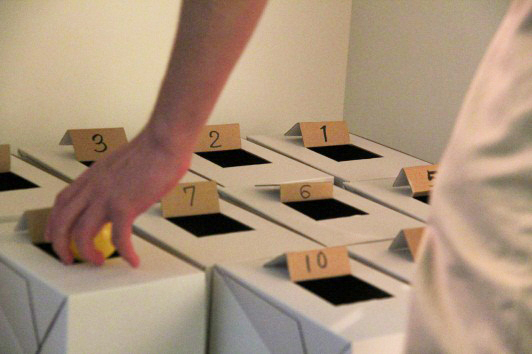 Tohoku's recovery that targets students. After listening to and reflecting on the presented manifestos, each member of the audience placed a vote for the one that was most compelling for a bright future for Tohoku.
The winning team
"Recovery through Tourism and revitalisation"
(Please click on the Picture)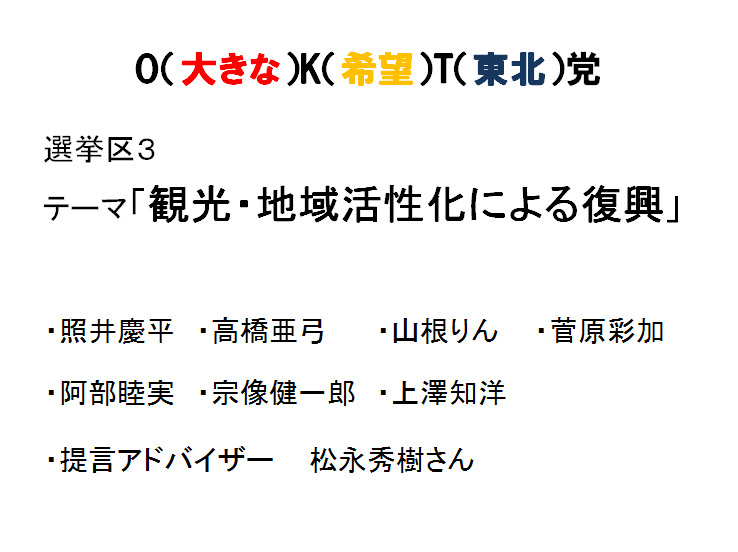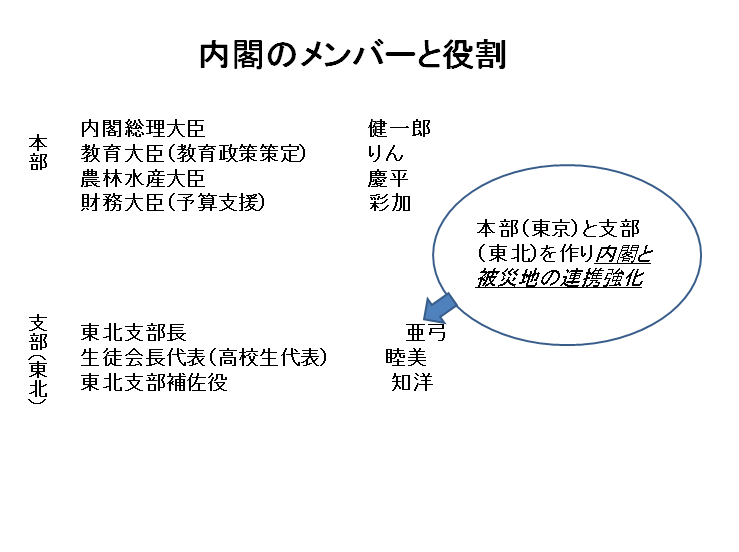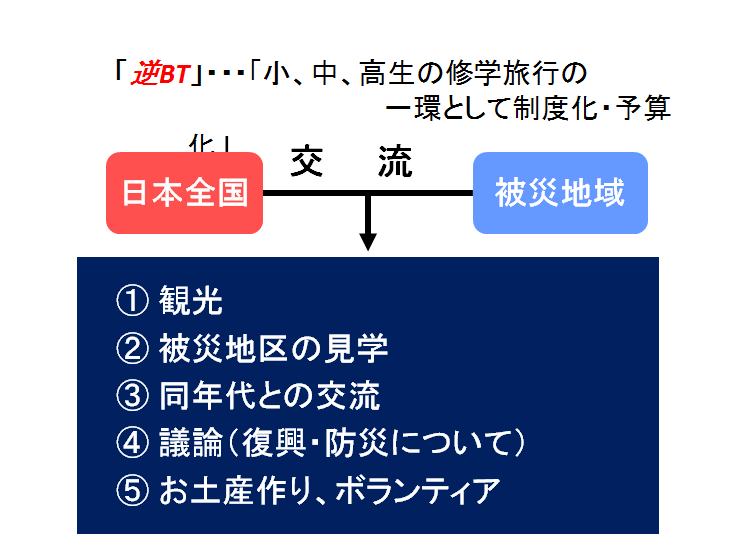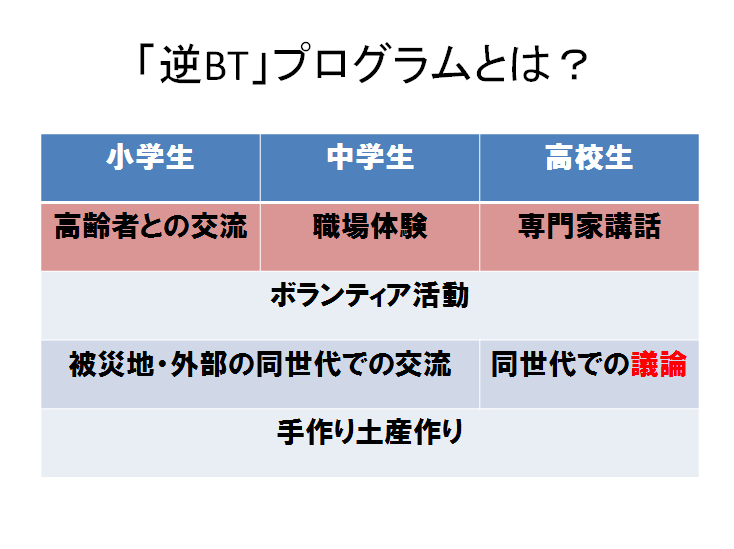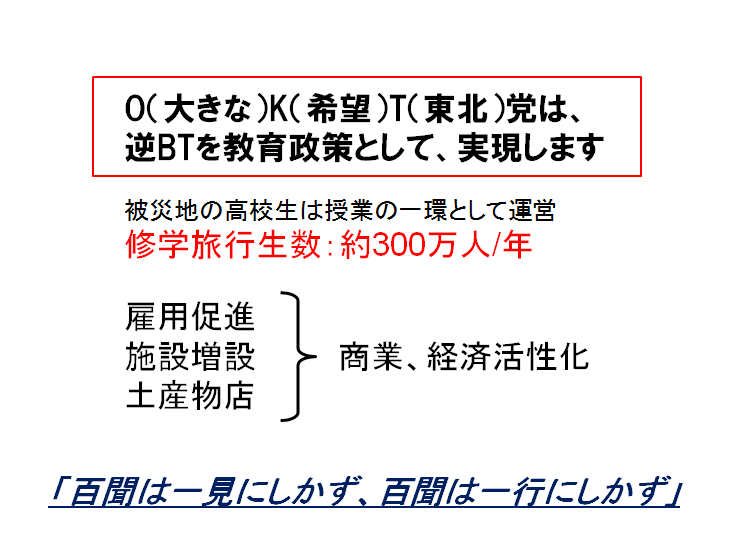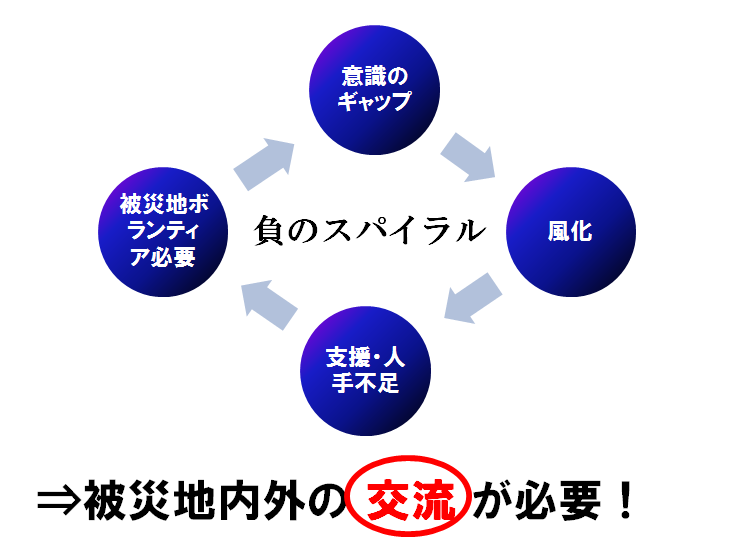 Student speeches
We would like to share with you the experiences of the representative students who spoke at the closing ceremony. (Please click on the photograph to read the speech.)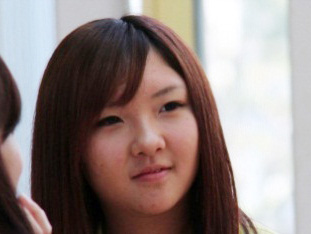 There were days that I cannot even begin to count the number of times I cried thinking about my family.Sayaka Sugawara
---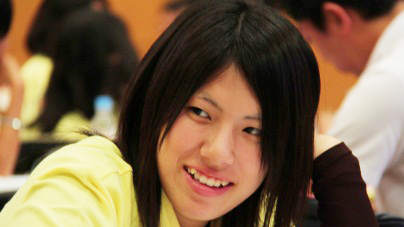 My destiny is to communicate to the world my experiences and disaster prevention measures in Japan.Rin Yamane
---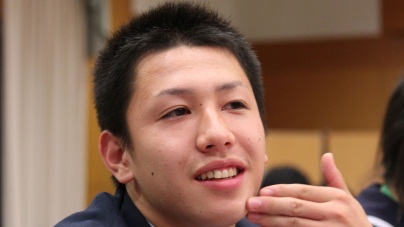 the Self-Defence Forces were going through the wreckage on land, and the Coast Guard was relentlessly searching the sea. When I realized what they were doing, I knew I wanted to be like them — I wanted to join the Coast Guard. Keisuke Kisara
---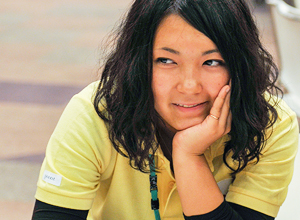 I have come to strongly believe this. Just as many people have given me opportunities to thrive, I want to be someone who gives others such opportunities.Ayaka Ogawa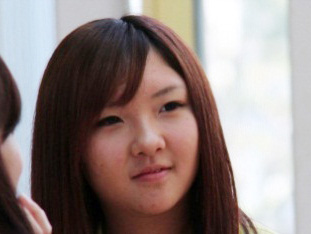 My name is Sayaka Sugawara, and I am from Ishinomaki city in Miyagi prefecture. Starting this past spring I have been studying abroad at Leysin American School in Vaud, Switzerland, as a participant of the BEYOND Tomorrow High School Overseas Study Program. I spoke about my experiences in the earthquake disaster during the Tohoku Future Leaders Summit last year, six months after the tragedy occurred. After hearing my story, many people came forward to support me. It is thanks to them that I am now able to study abroad in Switzerland. On March 11, 2011, the tsunami swallowed me and my mother right from our house. After being swept away for a while with the rubble, I heard my mother calling my name from underneath the debris. When I cleared away the rubble, I found my mother, pierced by nails and tree limbs, and a broken leg. Her right leg was stuck, and even though I tried my best to clear the debris, it was too heavy and too big. I wanted to save my mother, but I knew that staying there I would be swept away again by the tsunami. Do I stay and save my mother? Or do I run to safety? – I chose my own life. It was a decision that makes me cry to this day. When I left my mother I told her many times – Thank you, and I love you. It was the most difficult moment of my life to turn away from my mother who implored to me, "Don't leave me." There was so much more I wanted to tell her. But I had to leave; I swam to the lower school and spent the night there. There were many, many more difficult experiences after that moment. There were days that were so difficult that I thought of killing myself. There were days that I wondered why life is so cruel, and I cannot even begin to count the number of times I cried thinking about my family. Through this earthquake disaster, I lost so much of my life. But there are things that I have gained because of this experience. Since encountering BEYOND Tomorrow I have gained friends and opportunities. With these new friends I am able to speak openly about anything: things I haven't been able to talk about in school, experiences from the tsunami, my anxieties, and just trivial matters as well. These friends through BEYOND Tomorrow are like family to me — they are my siblings. I love them dearly, and even when I am studying abroad, we are constantly in touch, and I miss them very much. BEYOND Tomorrow has also given me extraordinary opportunities. I could have never imagined I would have all the experiences I have had since last September. Thanks to BEYOND Tomorrow, I attended the Summer Davos Junior Leaders Program, the US Program, and now my study abroad program — these have been eye-opening experiences for me that have also supported me through the difficult times. These opportunities have allowed me to grow stronger and have given me motivation to pursue my dreams. Last year, I made a speech stating that I hope to forge forward, looking forward to the day that I can truly believe that I am who I am thanks to all the pain I have experienced. Looking back on this past year, I do think that I am firmly making steps forward. Now, as a participant of the second Tohoku Future Leaders Summit, I made new friends, reunited with old friends, and renewed my conviction to continue working towards my dreams.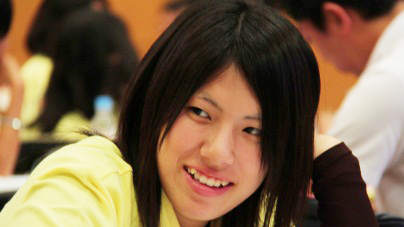 I live in a coastal town called Miyako in Iwate prefecture. This is where I grew up: in a town that is so close to the ocean that I could see the water from my school and my home. On March 11th when the earthquake occurred, I was at my school practicing softball, leading my team as captain for an upcoming competition. Right after the earthquake my mother came to take me home, but on the way we were swept into the tsunami. We were engulfed in black water — I miraculously survived, but my mother passed away. I was not able to accept reality for some time, as I continued to live with regret that I could not rescue my mother. But now, with the help of family and friends who have survived, I am back on my feet and moving forward. I imagine that there must be many people who still live with great grief. But I believe that we must keep going forward because we are alive. The elderly person living alone in temporary housing must try to step outside; the student must create dreams to pursue — as survivors, each of us has a destiny. By moving forward to fulfill this destiny, we are giving back to all those who have died, and furthermore, it gives us the will to live. My destiny is to communicate to the world my experiences and disaster prevention measures in Japan. As such, my dream is to some day work with an NGO or NPO in other disaster-stricken countries such as Indonesia or Haiti. There, I want to share the knowledge and advances in disaster prevention that Japan has gained since the Great East Japan Earthquake. I learned that in Indonesia and Haiti reconstruction and recovery efforts are still flagging because they do not have the financial means to move faster. I hope to contribute to such developing countries by working to build their financial strength so that they can work towards building a robust disaster prevention program, all the while deepening the countries' relations with Japan. Right now, the most I can do to give back to my mother is to live my life to the fullest and follow my dreams in full throttle.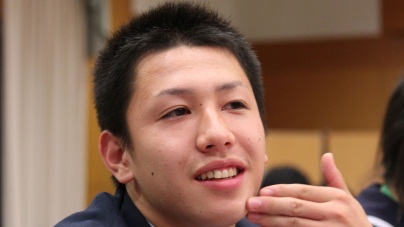 On March 11, 2011, the Greate East Japan Earthquake descended upon the northeastern coast of Japan. My hometown of Minamisanriku in Miyagi prefecture was also devastated. Fortunately that day I was at school, and thanks to that I was not hurt. Furthermore, I was not too concerned about my family because I had grown up hearing that tsunamis could not reach my house. A week later, however, I heard two things from my mother who came to pick me up. The first was that my house was swept away. The second was that my father had not yet returned home. We were convinced that my father had taken refuge in a shelter and searched different evacuation sites. But he was nowhere to be found. Finally we went to the morgue to look for him, though we kept praying that his name would not be listed there. We did not find his name anywhere, and I remember feeling quite relieved. But days went by without any sign of my father. Then on April 11th, exactly a month after the earthquake, my mother found him at the morgue. I was stunned in disbelief. The following day I had to go to the morgue to see for myself: my father was indeed there, in a completely disfigured state. When I saw him like that, anger and despair came over me. After that I was not able to do anything; I was so stricken by despair. But while people were paralyzed in grief, the Self-Defence Forces were going through the wreckage on land, and the Coast Guard was relentlessly searching the sea. When I realized what they were doing, I knew I wanted to be like them — I wanted to join the Coast Guard. School started again, and I became student body president. People from Japan and abroad offered so much support to our school; I realized that we are not alone. I am able to move forward now thanks to the generosity of all those people. There were many people who died or went missing in the Tohoku earthquake and tsunami. The today that we are living now is also the today that all those who died would have wanted to live as well. We as survivors have a mission to live today and every day that follows to its fullest, not just for ourselves but also for the dead. I am here living today to my fullest in order to fulfill that mission.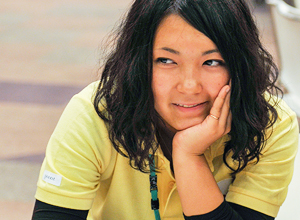 My name is Ayaka Ogawa. I am from Kamaishi City in Iwate prefecture. In the earthquake disaster, I lost my entire family. Not only did I lose my parents, sister, and grandparents, I also lost the house that I lived in for 17 years. I lost so much that I could not lose anything more. On March 11th, immediately after the earthquake, I evacuated uphill with my mother and grandmother. However, the tsunami was right behind us like a huge black wall, and my mother shouted, "Tsunami!" That was the last time I heard her speak. I ran up hills and a mountain and stayed alive. However, my mother and grandmother were nowhere to be found. The next morning, I walked on the debris calling my mother and grandmother's names. When I saw an elderly woman speared in a tree, I couldn't stop shaking. That horrifying scene still haunts me to this day. After a few days, I learned that my sister had been killed and that my father was missing. When I was brought to my sister at the morgue, I put my hands on her cheeks and said over and over – Thank you. My tears soaked her cold face. I kept thinking that she may just wake up. I did not want to let her go, but in the end my sister was cremated and turned into ash. I then spent many days looking for the rest of my family by turning through the pages of a binder with dead people's photos. Each page devastated me. The dead body of a small girl. A mangled corpse with arms and legs bent in every which way. I looked at many, many corpses. What if the next page was a picture of my father? Or my mother? On one hand, I hoped to find my family as soon as possible. On the other hand, however, I was not ready to accept the reality of the situation. I was terrified of turning the pages. Later on, my father and grandmother were located, but my mother and grandfather are still missing. So many things were destroyed, vanished in just one brief moment – why was my life, of all things, spared? I felt like my heart and soul were gone. After the disaster I wandered about aimlessly, having empty thoughts about working somewhere doing something after graduating high school. But since that time, I met many people who helped broaden my perspectives, and I learned the beauty of people being connected with each other. From these encounters my dream of studying abroad in the United States sprouted and was realized in extraordinary speed, and now I stand here about to embark on a journey to a high school in Michigan to study abroad starting June. It is truly thanks to Ambassador Roos, BEYOND Tomorrow, and all of my other supporters that I have been blessed with so many opportunities. Opportunity does not come to everyone. It could have been me who died on that fateful day in March. But I am here today, living. I have been allowed to live. Although I have lost so much, I am no longer afraid to gain anything. There are things that I am able to do now precisely because I have experienced so much. Knowing the pain that I have gone through, I feel like I can now face anything. In a situation when so many who wanted to live were not able to, I survived. I am living. People must live by helping each other, supporting each other, and thinking of each other. I have come to strongly believe this. Just as many people have given me opportunities to thrive, I want to be someone who gives others such opportunities. The past is the past. There is no way to turn back time. But I am able to change my future. That may sound like an obvious statement, but to me it carries a lot of weight. Time is fair to everyone. So I must take full advantage of it. My dream is to become a fashion designer who can give back to society. And as simple as it may sound, the best way for me to give back to my parents is to "be happy." I imagine that many people look at me and pity me. That is unfortunate and frustrating. And I am sure that this frustration has been a source of motivation for me as well. Of course I wish that the disaster had not happened at all, but I am who I am now because of the pain that I experienced. Since the disaster I have met so many people, and my life has changed so drastically that a part of me believes that my pre-disaster life existed so that I can live my post-disaster life. If March 11th had not come, I wonder if I would be living today with the same kind of dreams that I hold now. My sister was someone who would not hesitate to take actions for people in underprivileged situations. My father taught me to communicate with others with kindness. My mother gave me the strength to live with. Not a single day passes since March 11th that I do not think of my family. With all these precious things my family left me with, I want to cherish every opportunity, believe in myself, and most importantly, follow my own inspirations, in my own way.
Media Coverage
News Papers(Japanese only)
Tokaishimpo (August 31, 2012)
Kahokushimpo(August 31, 2012)
Sanrikushimpo(September 7, 2012)
Iwatenippo(September 8, 2012)
Fukushimamimpo(September 8, 2012)
Tokaishimpo(September 12, 2012)
Iwatenippo(October 16, 2012)
Yomiurishimbun(October 27, 2012)
Sponsor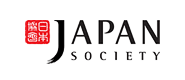 Japan Society
Supporter
Culture, Sports, Science and Technology