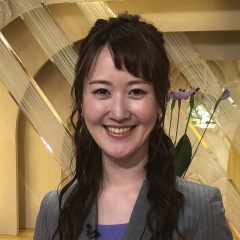 There is more than meets the eye: this lesson plays an important role in my current job
Yurie Imai
Television Announcer, Ishikawa Television Broadcasting Co., Ltd.
I applied to BEYOND Tomorrow during my senior year of high school, right before starting university. I was drawn by its philosophy that adversity makes great leaders as well as its dedication in supporting people over the long-term. During the interview, I remember being even more intrigued because I could tell that the interviewers were carefully learning about each person's personality and thoughts.
The first program I attended gave me a huge shock. I couldn't believe that this person, who was joking around just a minute ago, had suffered such challenging experiences. I couldn't stop crying. I learned that what you can see from the outside is not everything; in fact, it is just a small sliver of the whole picture.
It is because I understand there is always more than meets the eye that  in my job which requires talking to people I meet for the first time, I'm able to approach concepts from multiple angles to try to understand the other person's true feelings. In order to achieve my dream of becoming a television announcer, I spent my university days doing various activities. Aside from my activities with BEYOND Tomorrow, I also participated in the broadcasting club at school and had a job at a café.
I always looked up to television announcers who brought their smiles and positive energy into our living room. By a stroke of luck, I was introduced to the television company that I now work for. I am curious and ambitious and I couldn't have asked for a better job than this one which lets me realize my dreams. As I gain more experience, I hope to become a television announcer with a unique voice.