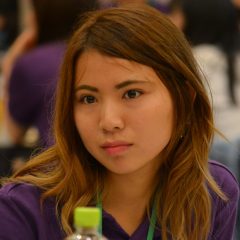 With my past experience, I want to provide a place for children with no parents.
Saori Morise
Year of Participation : Third grade in high school
My four siblings and I have lost both parents. After my parents divorced, my mother who had custody passed away with cancer. She had surgery the year the doctor found her cancer. The doctor told us the cancer was unlikely to return so my siblings and I shared a sigh of relief. We were so happy to have our mother back home, we put too much pressure on her after surgery. Life is cruel. We only realized this after we found out her cancer had returned. We were told she had four months to live. My mind went blank. I decided to support my mother the best I can. However, she passed away one week after she received her life expectancy. I could not do anything for her. After her death, I could not stop thinking again and again "if only I could go back in time and do something for my mother."
I decided I would be both sister and mother to my younger siblings and take care of them. I spent the following days tackling countless tasks and problems such as claiming insurance, going through inheritance procedures, going through appointment of guardian of minor procedures, and applying for welfare allowance. Whenever I became hysteric from built-up stress my siblings comforted me and I was able to pull through. I decided to give up my dream of becoming an English teacher to follow in my mother's footsteps and work towards nursery school teacher licensure at home.
When I gave up my dream, I lost my future goals. That is when my teacher recommended to apply for BEYOND Tomorrow. I participated in the Japan Future Leaders Summit. The summit was nothing like I had imagined and I was truly inspired. There were many people in similar circumstances as myself but their way of thinking was completely different. They had faced heartbreaking tragedies in their lives, but they were using these tragedies as motivation to reach their future dreams.
When I shared my past experience with my peers, one of my team members said to me "I don't think you need to try so hard." These words came as a huge relief to me. At the summit, I found my new dream. I would like to create a place where children who have lost their parents can live. I also participated in the Japan Future Scholarship Program. The program provided me with a year of hard work and growth where my peers and I inspired and learned from each other.
In junior college, I majored in Early Childhood Education and deepened my knowledge about the field. 
Currently I spend my days helping out with work at home and taking care of my siblings. Within this daily routine, I am in regular touch with the peers I met through BEYOND Tomorrow. We talk positively about what we can do in the future. Having participated in BEYOND Tomorrow's overseas program, I have a new dream of going to various countries in the future and expanding my horizon. I would like to utilize these experiences in my future work with children.