BEYOND Tomorrow Spring Program 2015
Outline
BEYOND Tomorrow Spring Program 2015 was organized for the participants of BEYOND Tomorrow's Scholarship Programs. The students deepened their understanding of BEYOND Tomorrow, envisioned their future, and thought about what they should be doing for the year ahead during the 4-day program. The theme of the program being "Thinking and Dialogue", they had opportunities to look into themselves as well as engage with others. The students who spent time in an intimate setting toegether walked away with the trust in each other and a clear vision for what each of them can do for him/herself, friends, and society at large.
Objectives
This program gathered participants from every BEYOND Tomorrow scholarship program, and over the course of the four days, they had discussions to achieve the following objectives:
Dialogue with oneself
To shed light on the deep inside of oneself, including weaknesses and a lack of abilities, and accept his/her own existence as such. To find the part of oneself that was beyond the consciousness and establish his/her own identity and individuality.
Dialogue with others
To share one's thinking with others and ponder how to accept the differences in thinking with others. To think about the kind of trust needed to accept being different and not being able to understand with respect, and think of what can be done beyond just knowing the differences.
This program, in its fourth year, aims to offer BEYOND Tomorrow's scholarship students an opportunity to reflect on the meaning of the scholarship programs, which focus on providing not only financial assistance, but also a comprehensive educational experience to cultivate leaders from the disaster-affected regions.
Past Spring Programs
Dates & Location
Dates: March 20 – 23, 2015
Venue: National Olympics Memorial Center, Minoishidaki Camping Site
Participants
Participants of BEYOND Tomorrow's Scholarship Programs in 2014 and 2015
Students who resided in Iwate, Miyagi or Fukushima prefecture at the time of the Great East Japan Earthquake and Tsunami, and are or to be enrolled in universities or equivalent institutions with aspirations to become leaders with a global outlook. Participants were selected based on essays and interviews.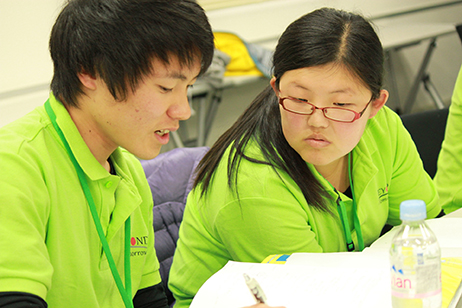 Schedule
Day 1
Orientation
– My Story –
Guidance for Presentations
"Action plans for the year ahead"
Dinner Session
 with Daijiro Hashimoto, Councilor, Global Fund for Education Assistance
BEYOND Tomorrow Night
– Reading Session: "Chinmoku by Haruki Murakami"

Day 2
Transfer to the camping site
Debriefing
Outdoor activities – Canoeing and trekking
Outdoor cooking & dinner
Games
Experience sharing
Day 3
Debriefing
Bath and lunch
Transfer to Tokyo
Developing action plans
BEYOND Tomorrow Forum
Day 4
Closing plenary & lunch
Reflection
Program Highlights
Orientation – My Story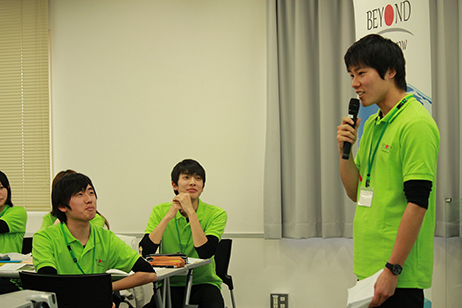 Upon the start of the program, students presented their stories. The themes of the stories varying from the 3.11 disaster experience, future dreams, to the field of studies, the session provided opportunities for the students to not only get to know each other but also think about who they really were.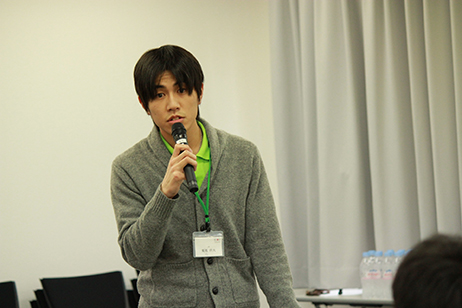 "After the 3.11 disaster, I proceeded to university in Kanto region, and few people around me had experienced the disaster and I hardly had a chance to talk about it. Every time I join BEYOND Tomorrow's activities including the Summit, I feel like my heart can go back to where it used to be 3 years ago."
Masahiro Kikuchi
BEYOND Tomorrow/Project HOPE Special Scholarship Recipient
University of Tsukuba, School of Social and International Studies(Graduate of Takata High School, Iwate prefecture)
Reading Session: Chinmoku by Haruki Murakami
Using Haruki Murakami's shorty story "Chinmoku" as a text, the students explored the concept of right and wrong, self-consciousness, and multifaceted nature of various events, individually and in a group. In examining the simple, short story, the students found new perspectives and ways of looking at things.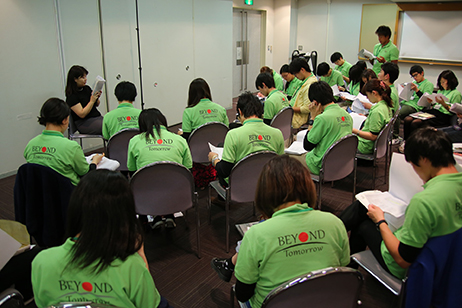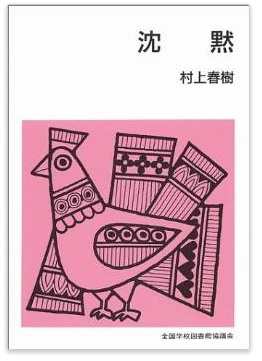 Team Building: Outdoor Camping
In the middle of the program, the participants took on a challenge of camping by Sagamiko Lake. They enjoyed canoeing in the lake and trekking, worked together to prepare meals outside, and had a fun time playing games. At night, divided in small groups, the students held an experience sharing session where they talked about their helpless feeling and many other things that they had kept to themselves. The camping program was organized by the students who joined Tohoku Future Fellows Program in 2013.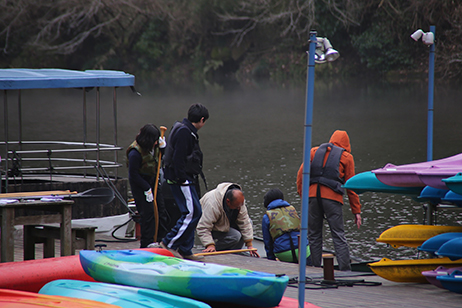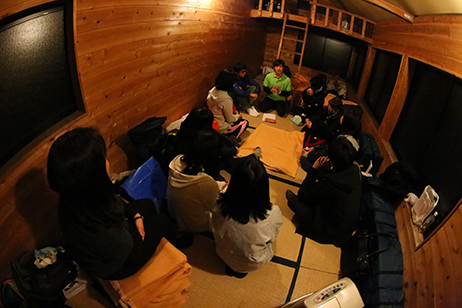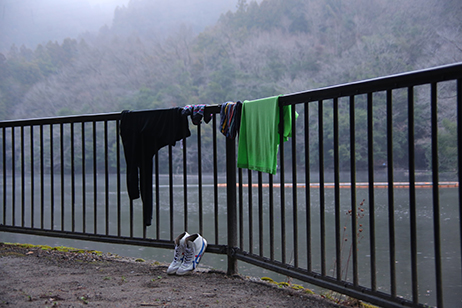 BEYOND Tomorrow Forum
It has been nearly 4 years since the inception of BEYOND Tomorrow. The students who were once enrolled in the scholarship programs gathered and talked about the days at BEYOND Tomorrow and the days after that. The current students learned about the alumni's activities, and received enormous inspiration from them.
"Until now, I didn't know the people who graduated from BEYOND Tomorrow. Talking to them face-to-face, I realized the importance of having a space to connect BEYOND Tomorrow's friends."
Noriko Yusa
Tohoku Future Fellows Program
Showa Women's University, Department of Human Environmental Science and Design (Graduate of Miyako High School, Iwate Prefecture)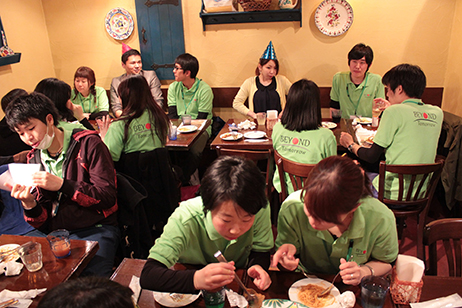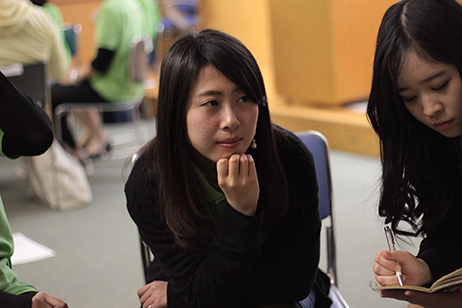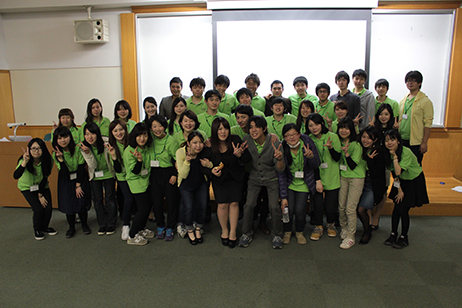 Closing Plenary
The 4-day program ended with a closing plenary where the students presented their action plans. What should BEYOND Tomorrow look like into the future? – the teams presented their plans that they had put together, and the program ended with a firm promise that they would work together hand in hand to build BEYOND Tomorrow.
Presentation
The students made presentations after a 4-day discussion on "Will BEYOND Tomorrow needed when it will be soon 5 years since the Great East Japan Earthquake and Tsunami?" "What do we want to carry on? Why do we want to hand down?"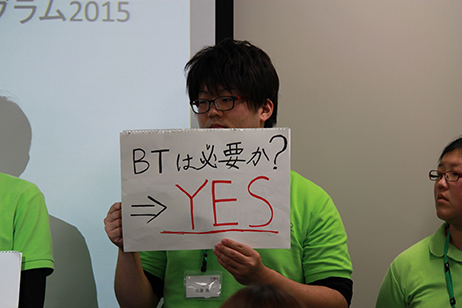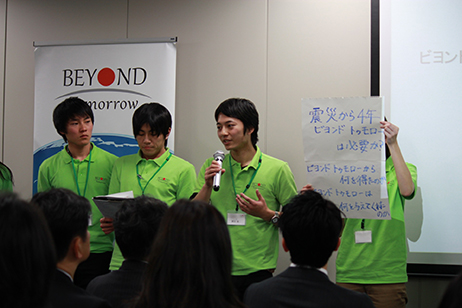 Review
At the plenary, Shinjiro Koizumi, Parliamentary Secretary of Cabinet Office and Parliamentary Secretary for Reconstruction, made remarks for the students.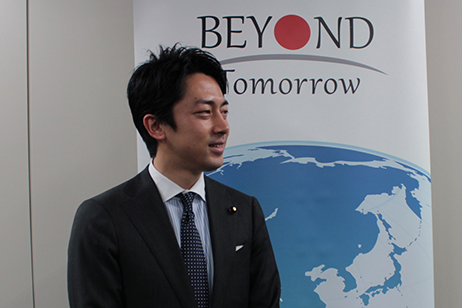 ""Just like the word 'BEYOND Tomorrow' reads, I am encouraged by all of you at BEYOND Tomorrow to believe that we can build a better future for better tomorrow.""
Students enrolled in BEYOND Tomorrow's Scholarship Program are expected to participate in various leadership activities including this Spring Program and grow to become individuals that can give back to younger ones and to society at large.