Education is "Work that Changes the Future"
Takuma Terada
Chief of Hiroshima Prefecture General Affairs Bureau, Former Chief of Hiroshima Prefecture Board of Education Learning Promotion Section, Research Fellow at Ritsumeikan Asia Pacific University
From Domestic Violence to the Path to Education
Excuse me for starting the story this way, but I have called the police on my father before.
My father was an elementary school teacher, but the domestic abuse was so bad that mother has had tableware thrown at her, her hair has been pulled and was thrown out of the house along with us kids. The door has even stayed locked until the morning.
I think I was in junior high when the abuse had gotten so bad, I dialed 110 and called the police. I still remember explaining the situation to the officers in a police car parked in front of my house. Ever since I was a child, I remember resenting my father from the bottom of my heart. I could not let this terrible behaviour be forgiven. I wanted to protect vulnerable people, which led me to study law.
However, as a college student volunteering at the same elementary school where my father worked, I was inspired to pursue the path of education. I joined the Ministry of Education in 2004, became a career bureaucrat, and has been working for the Hiroshima Board of Education since 2014. In Hiroshima, we are implementing education reform such as promoting "collaboration with others instead of just memorizing information," or selecting a group of 100 high school students to collaborate with students overseas, companies, NPOs, and universities. Over the course of three years, for a better future for Hiroshima and the world, we have worked on opening the "Hiroshima Sosei Innovation School", aimed at working on a project called "International Collaborative Learning Project." We have also established the Hiroshima Eichi Gakuen Junior and Senior High School, a public boarding school that accepts a large number of foreign students that aims at leading this new form of learning.
Encounter with Beyond Tomorrow

Now, if you are reading this, you are probably on Beyond Tomorrow's homepage and are interested in their activities. If possible, please donate! That is all!
..I could finish this article like that, but that would be too brash. Anyways, when I first learned about Beyond Tomorrow, I had just arrived in Hiroshima.
Just before that, at the time of the 2011 Great East Japan Earthquake, I was working for the Ministry of Education as a member of the Education Reform Promotion Office. I was put in charge of "Educational reconstruction after the Earthquake."
However, I received little word from the disaster-hit area. When asked "Is everything alright?" they simply replied with "everything is fine." The chief of my office at the time said "If they're having a difficult time there, why aren't we there?"

A few weeks after the earthquake, without making any appointments, we drove around different disaster shelters and to the ministry of education asking around "anyone, please we would just like to talk to someone briefly." The one word I would use to describe the situation there would be "despair." There was no city. The image of the city when you look up the city on your phone and the reality right in front of you were so different, or rather, nothing in the pictures are there. "How could such a terrible thing happen?" I thought from the bottom of my heart.
Then, when I came back to Hiroshima, I met Beyond Tomorrow. I participated in an event as an advisor to high school students, and we spoke with students who had lost their families, homes, friends, and their things in the earthquake. We talked with them for three days, everyday until late at night. After that, I continued to participate in the Beyond Tomorrow programs and spoke not only with those who had been affected by the earthquake, but with children who had lost or separated parents, those who grew up in children's homes, or those who grew up with financial difficulties.
Honestly, when I first joined, my intention was "I want to save these poor children." But as I participated in more events and talked with more students, my thinking changed. "No, I want to change society, create a better world. That's why I'm here."

Education is "Work that Changes the Future"
I believe that a "career in education" is, in a nutshell, "work that changes the future." With the power of education, we can change people's futures, person by person. And if we change people's future person by person, we can change the future of society as a whole.
My dad liked a band called Kaientai. If you are of a certain age, you may know that this is Tetsuya Takeda's band. When I was in junior high, due to my fathers influence, I started listening to their CD's (thinking back I was a pretty serious high school student.)
The song that Kaientai is known for is, as you may know, "Words to Give." It is the theme song of "Kinpachi Sensei, 3rd Grade, Class B," which is a show with the theme of education.
In this song, there are these lyrics:
"The more sadness there is, people are capable of more kindness."
Society is unfair. To the point it makes you sad. To the point you want to despair."
But children and young people can overcome that despair. They have the power to overcome it. So what adults can and should do is not "save them." We should believe in their abilities, and together, change society, and step by step, create a better world. More terrible things are going to happen in the future, that will not change. Although it is saddening, we cannot change that. However, "Hard work will be rewarded accordingly. Hard work will be judged appropriately. People who do their best will be happy." I want to create a world like that. People who have gone through hardship especially, has the power to do this. We need to motivate these good people, and together create a better world.
When I was in junior high, the fourth season of "Kinpachi Sensei, 3rd Grade, Class B" was playing.
The intro song for that season "Startline" has these lyrics:
"What we need right not is not a bright place full of light, but a start line towards the darkness"
To the children, youth, and adults who do not look back at their past, but draw the start line on their heels and inspire themselves by telling themselves "ready, set, go," and run straight into the darkness, good luck to you.
About my father I wrote about in the beginning, a few years back, he retired from his job as a teacher. Although he was a violent father, he always worked at home until late at night. Every New Year, he would receive an amazing number of new years cards from students, parents and graduates.
And last year, he was diagnosed with lung cancer. He was already thin from the start, but after multiple surgeries, he had lost another 10 kilos. He is still receiving treatment.
Someday, everyone on this earth will disappear. No matter how much they think, "I want to live, and spend more time with the people close to me," those thoughts will not matter and the end will come.
In this unfair world, instead of resenting it or hating it, those who will run straight forward towards the future, towards darkness, wishing for a better world, will be the ones who will be able to live happily. I pledge that I will continue to work with the youth of this world to realize this kind of world. I would also, in this article, wish my father gets better.

Thank you for reading this article to the end. If you want, let's change this society together.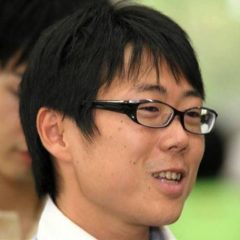 Takuma Terada
Chief of Hiroshima Prefecture General Affairs Bureau, Former Chief of Hiroshima Prefecture Board of Education Learning Promotion Section, Research Fellow at Ritsumeikan Asia Pacific University
Takuma Terada was born in Hadano City, Kanagawa Prefecture in 1981. He joined the Ministry of Education, Culture, Sports, Science and Technology in 2004, and was in charge of educational reform and the reconstruction of education from the Great East Japan Earthquake. Since 2014, he has been transferred to the Hiroshima Prefectural Board of Education for educational reform called "Reform of Learning", and has also worked for Hiroshima Innovative School (Large-scale PBL for high school students which collaborate with international organizations such as OECD, companies, NPOs, universities, etc.) and for the establishment of Hiroshima Global Academy (a boarding school for middle and high school integrated education that practices international collaborative PBL with foreign students and with SDGs as the core concept). He graduated from the faculty of law at Waseda University, and he is continuing his study at the University of Michigan Graduate School of Education (Design and Technologies for Learning Across Culture and Contexts (DATL)).