There are many serious issues in Japan today despite the economic wealth the country has achieved as a whole. Behind these issues are youths whose future should not be sacrificed. These young people long for things that other youth in Japan take for granted such as having full meals and going to school. With such desires, these youths strive hard to forge forward with their own lives. With financial aid and leadership opportunities, BEYOND Tomorrow supports youths who, despite their socioeconomic difficulties, possess aspirations to rise above hardships to make a difference in society.
BEYOND Tomorrow students face socioeconomic hardships such as below:
Having lost parents and/or been separated from parents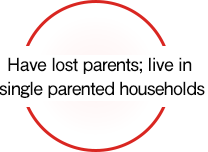 The number of single parented households is increasing due to reasons such as parents' death and divorce. The relative poverty among single parented households is estimated at 54.6%, and many families face socioeconomic hardships. Most of single parented households are headed by single mothers. The situations surrounding single mothers are tough; less than half of single mothers have full time jobs and the average annual income is JPY2,430,000. One of every 7 single mothers receives public assistance for living. As a result, kids in single parented households have a low rate of pursuing higher education – only 20% make it to universities.
Students' stories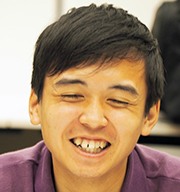 "After my father's death, I believed that I did not deserve happiness." Takafumi Oyama Faculty of Economics, Yamaguchi University (Graduate of Matsuyama Kita High School Nakajima Branch, Ehime Prefecture) Takafumi was born into an orange farming family on a remote island in Ehime prefecture. Ever since his father committed suicide when Takafumi was still in elementary school, he grew up supporting his mother, who had a limited command of Japanese language, and his own education by delivering newspapers. He felt that island life was too small for him; he yearned to see more of the world. He thus joined BEYOND Tomorrow as a high schooler, and the new encounters and experiences there opened his eyes. In 2017, Takafumi took a year off university to be in his mother's home country, the Philippines, doing an internship to help administer English language programs. Having witnessed Asian countries' vitality, Takafumi now hopes to engage in business and help boost the status of Japan in the world.
Living under foster care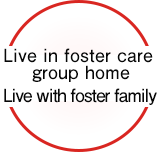 There are approximately 45,000 youths around the country that live under foster care due to reasons such as not having parents to raise them and having been abused by parents. Many of them were protected from abuse, and they live in foster care group homes and/or with foster parents. Youths under foster care have a low rate of pursuing higher education after high school; 12% in foster care group homes and 26% in foster families make it to universities. Many of the youths are released from foster care at the age of 18; however, it is not easy for them to become independent and make a living by themselves.
Students' stories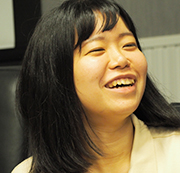 "I simply wished to go to school. When I was not allowed to go to school, I decided to leave my family." Akemi Nishizuka Yaotsu High School, Gifu Prefecture Akemi grew up in a difficult family environment, often suffering on her own. When she finally discussed this with her high school teacher, she decided to enter a foster care group home. There, she was supported by lots of people, and she learned how to trust adults for the first time. Until she entered the group home, she never had the wherewithal to think about her future, but now, she is thinking to work to support children who, like herself, are suffering difficult situations. She hopes that the BEYOND Tomorrow Endeavour program offers her an opportunity to make new discoveries and grow into a person with a positive outlook.
Receive public assistance for low income families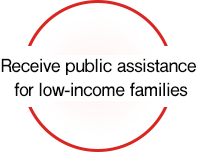 For a long time in history, children in low income families receiving public assistance were not allowed to go to universities because they were expected to support their families. However, the recent change in the government policy started encouraging them to go to universities. Yet their rate of going to universities stands as low as approximately 20%. Many of them choose to work to support their families after graduating from high school, and approximately half of high school graduates choose to get jobs.
Students' stories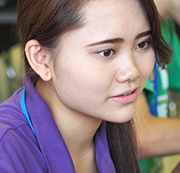 "When I was living with my family, we were receiving public assistance for low income families so going to university as an option in life. However, as I actually made it to university to realize my dream to become an interpreter, I learned the importance of never giving up." Mayuko Hase College of Literature, Aoyama Gakuin University (Graduate of Hiratsuka Gakuen High School) When Mayuko lost her beloved mother in middle school, she and her siblings applied to and entered a foster care group home. Losing her mother was devastating, but she and her siblings grew up faster for it, and she also realized the importance of "caring for yourself," which is something her mother would have wanted her to learn. Though she initially did not consider going to university, she was inspired by her mother's English proficiency. Mayuko decided that she wanted to become an interpreter and applied to enter university. Through BEYOND Tomorrow, Mayuko hopes to meet a lot of people, gain a deeper understanding of society's problems, expand her perspective, and grow to become an interpreter who can connect people in a way that transcends culture or language.