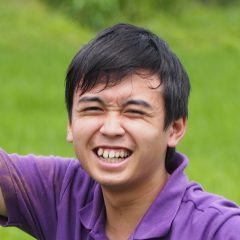 Thanks to my fellows from BEYOND Tomorrow, I could overcome my father's suicide and find my dream.
Takashi Oyama
Year of Participation : Third grade in high school
Nakajima is an island surrounded by the Seto Inland Sea with a population of 3,000 in Matsuyama City, Ehime. I was born and raised on this island. It is a small island but a wonderful hometown for me full of warm, welcoming people.
My father's family had always been farmers and began growing clementines after the war. When I was small, my father used to take my brother and I to the "clementine mountain" and we played there. Through clementines, my father taught us how to feel and play with nature. My father was old-fashioned and stubborn, but in the moments of kindness that he showed I could tell he loved me despite his awkwardness.
My father passed away when I was in third grade. My elementary school teacher told me to hurry home. When I got home, my father was "sleeping" at the back of the house. I was told it was suicide.
My life changed 180 degrees from that day. My mother is Filipino and does not speak fluent Japanese. She raised us under difficult circumstances. To support my family, I started delivering newspapers when I was in junior high school. I woke up at 4:30 AM to deliver the papers then went to sports practice and studied before going to school.
I could not accept my father's death. I forgot about the person I was before his death. It became my mission to put best effort towards supporting my mother and myself. I immersed myself in books and became interested in the world and the economy. As I learned about my island's economy and the food market, I started to dream about studying overseas and learning about economics and the world.
When my teacher told me about BEYOND Tomorrow, I was preparing for college entrance exams. I was not sure if I should go, but my mother encouraged me to participate. My three days participating in the BEYOND Tomorrow program became my life's turning point. My peer participants shared about their painful pasts without shame. Through spending time with peers who had had similar experiences, I was able to face the past I had kept hidden from myself and others for a long time and was able to rediscover myself.
After entering college, I realized my dream of studying overseas. I went to the Philippines for a year to work as an intern supporting international students and building websites. This experience led to my finding a job as an engineer after graduating college. I have been inspired by the entrepreneurs I have met through BEYOND Tomorrow and now I have a new goal of utilizing my business experiences to start my own company in five years.
My experiences at BEYOND Tomorrow and my ties with my fellow peers whom I still keep in touch with continues to be a source of growth for me.